Home Makeover with Lumber Liquidators & West End Interiors
As Brian and I are about to embark on the next chapter in our lives, we wanted our home to reflect it too. Many of you might not know this but Brian and I have been living together for over three and a half years now - we moved into together fairly quickly as we started dating. With this move, we were able to determine our compatibility fairly quickly. ;) Our home is a perfect size for what we need it to be right now, but it was not entirely functional. We decided to call in a professional, Raelyn Woltz of West End Interiors, to help us make home feel more like home.
Raelyn came over and instantly made Brian and I feel comfortable. She asked us what we liked and didn't like about our current space and helped us determine our style. Our biggest pet peeve of the space was that we both couldn't lay on the same sofa and watch TV. It also just felt very cluttered and oversized, making the room feel smaller. She got a good sense of the room, measured and told us that she'd be in touch with layout suggestions.
Our first major task were the floors. The carpet was in rough shape- stained, smelled and didn't really go with the color scheme we wanted. We were able to reach out to Lumber Liquidators to partner with them on new flooring options. When it came to choosing floors, we were a little lost. We were able to spend some time on their easy to navigate website and narrow down our options. We decided to go for a grey Driftwood Hickory Engineered Vinyl Plank throughout our entire home. The floor we chose is a CoreLuxe Engineered Vinyl Plank (EVP) which combines the durability, comfort, and waterproof features of luxury vinyl plank with a core that clicks together with ease, making it a great choice for DIYers (aka us - aka Brian let's be real). The EVP is waterproof so it stands up to heavy traffic and pets. This was a non-negotiable for us! We needed something that would be good with our dog, Walter. And, its no-fuss maintenance is as attractive as its authentic hardwood looks. This type of flooring works well for any room-even bathrooms, kitchens, and basements. It even has a 50 year warranty. To be honest, pulling out the carpet was more difficult than putting in the floor.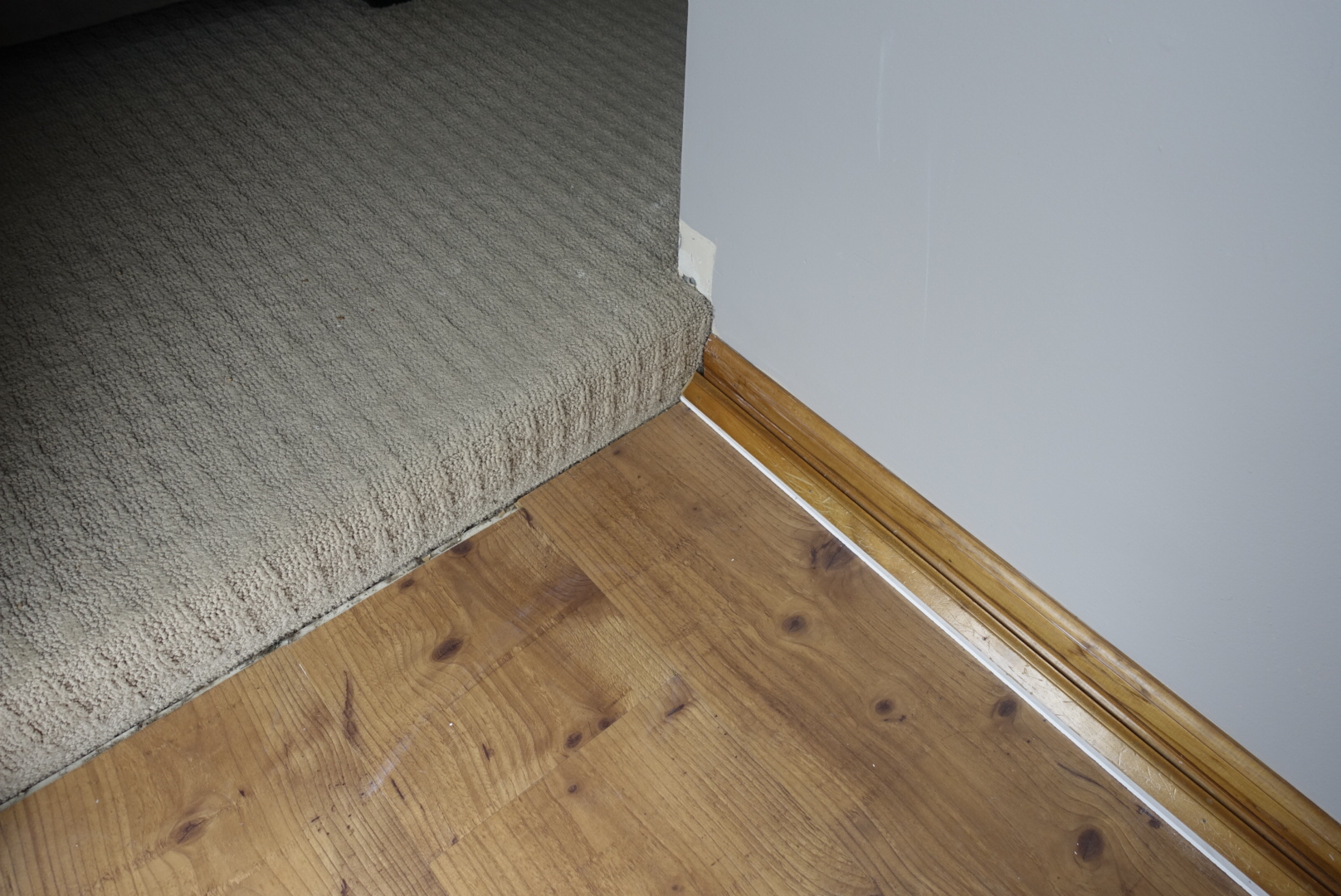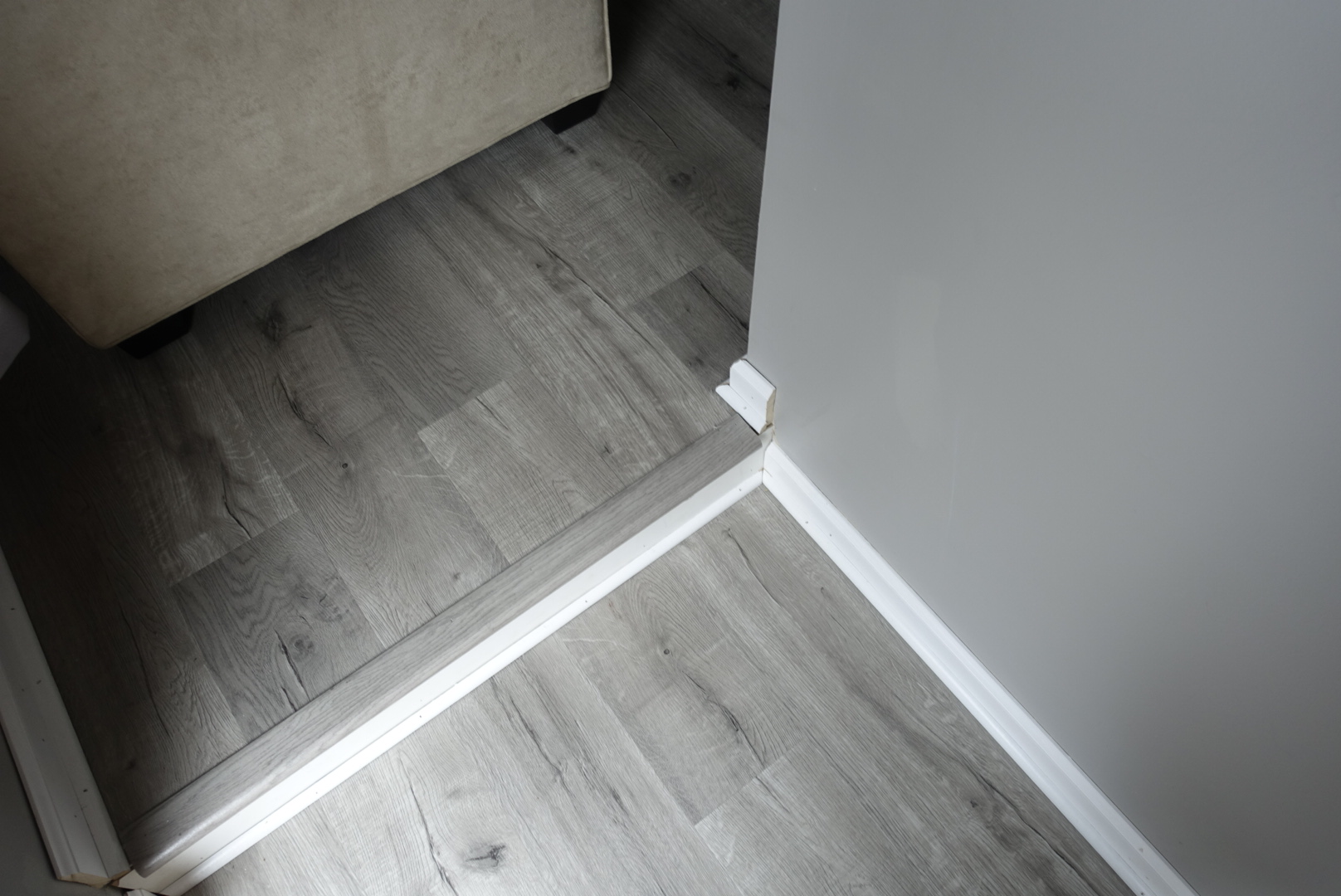 The new floors are INCREDIBLE! Even without new furniture, it made such a difference throughout our home. The floors took a few weekends to install, we did a few rooms per weekend and finished the molding in under a month! Now that we had our floors, we needed to circle back with Raelyn to help us determine the vibe we wanted in our living area. She sent us this first mood board with easy links to buy the items directly. We also challenged her to creating a more functional space on a budget under $5000. Here's what she came up with:
Brian and I truly felt that Raelyn captured our vision. Just in the hour that we spent together, she was able to listen to what we said and help us transform our room into a more functional space. There were a few items that we didn't love, so we came back to her with some feedback and she was able to create another concept for us:
Call me crazy but I was so excited by these layouts that she sent us! Just the thought of turning our home into a more modern space without completely breaking the bank was so exciting! We ended up going for a mixture of her proposals. She was incredibly timely and helpful in her responses. I was able to text her anytime of the day or night to ask questions- Raelyn was so helpful! And it's safe to say, we're ecstatic with the results!
If you are interested in changing up your space, be sure to check out West End Interiors. Raelyn was SO easy to work with and helped us turn our vision into reality. We were able to buy everything - yes everything - online. This made our home improvement process incredibly easy. Brian & I don't really do well in stores together (he's usually bored & I'm usually hungry) so this was a fantastic option for us. We spent a few days assembling furniture which really wasn't as bad as we thought it was going to be. All in all, I think you can call this home improvement a success- especially because we finished a few weeks BEFORE the wedding! I've linked some of our new items below:

What do you think of our new space? Is this making you want to re-do your space? Leave a comment below!
 
A HUGE thank you goes to Lumber Liquidators and Raelyn of West End Interiors for collaborating with us on this post. All thoughts & opinions are my own.